Het uitkiezen van een Spaanse ham kan een uitdagende taak zijn voor wie niet bekend is met de verschillende soorten en kwaliteitsniveaus die beschikbaar zijn. Er zijn verschillende factoren om rekening mee te houden bij het kiezen van de juiste ham, zoals de regio van herkomst, het ras van het varken, de voeding van het varken, de duur van de rijping en het snijden van de ham. Om al deze verschillen wat beter toe te lichten en je wegwijs te maken in de wereld van Spaanse Ham hebben wij de ultieme Spaanse ham gids samengesteld. Na het doorlopen van deze pagina weet jij van welke ham jij binnenkort zal genieten!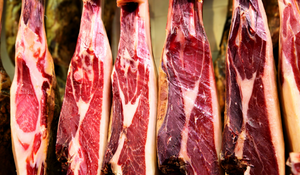 Soorten bereidingen van Spaanse ham
Het is belangrijk om te overwegen hoe je de Spaanse ham gaat gebruiken voordat je beslist welk type ham te kopen. Als je bijvoorbeeld een ham wilt kopen om in zijn geheel te serveren bij een feestelijke gelegenheid, dan is een hele ham waarschijnlijk de beste keuze. Als je echter ham wilt gebruiken als tapas i.c.m. brood en andere hapjes, dan is gesneden ham of ontbeende ham waarschijnlijk de beste optie.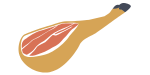 Hele ham (met poot)
Onderscheid tussen voorpoot (paleta) en achterpoot (jamon)
Als je een ervaren ham-liefhebber bent en graag zelf je ham wilt snijden, is een hele ham misschien de beste keuze. Dit type ham wordt verkocht met been en al.
Een goede keuze voor:
Een groot gezelschap
Een feestje
De echte Spaanse beleving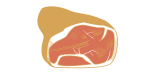 Ontbeende ham
Geen snijafval en bot
Een ontbeende ham is een hele ham waarvan het been is verwijderd. Dit kan handig zijn als je minder ervaren bent in het snijden van ham of als je het vlees voor specifieke recepten wilt gebruiken, omdat je het makkelijker in stukjes kunt snijden.
Een goede keuze voor:
Als je zelf wil snijden, maar zonder veel gedoe
Ideaal voor horeca
Als je beschikt over een snijmachine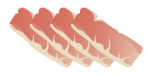 Gesneden ham
Eenvoudig en snel op tafel
Als je niet zo ervaren bent in het snijden van ham of als je het gewoon gemakkelijk wilt maken, kun je ook kiezen voor gesneden ham. Dit type ham wordt verkocht in plakjes en is klaar om te eten zodra je het uit de verpakking haalt.
Een goede keuze voor:
Altijd handig om in huis te hebben
Aanvulling op de tapasavond
Het ontdekken van jouw favoriete jamon